The Naskov Family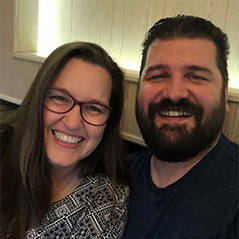 After hearing a simple radio advertisement in 2012, it was clear to Zoran and Jennifer Naskov that there was more they could be doing.

After becoming licensed therapeutic foster parents in the United States, they welcomed approximately a dozen children into their home between 2009 and 2015. Their lives have never been the same. In 2013, the family of four grew by two, when they were able to adopt Josif and (later) Malachi out of foster care in North Carolina.

But they weren't done yet.

After spending time considering what their next steps could be, Zoran and Jennifer pinpointed North Macedonia as a possible place to get involved in caring for vulnerable children. North Macedonia was an obvious choice, as it is Zoran's homeland and is a country that had many opportunities to help in the area of orphan care - a topic very near and dear to the Naskov family.

So in the Fall of 2014, Jennifer took a "fact-finding trip" to North Macedonia, to determine the need and how they could become involved.

There was no question as to the next steps! Less than a year later, the family of 6 (plus a very nervous Australian Cattle dog) boarded a plane and moved across the world to beautiful North Macedonia!

After taking a year to settle, get acclimated, and get some language and culture under their belts, Lighthouse of Hope MK was born.