The Naskov Family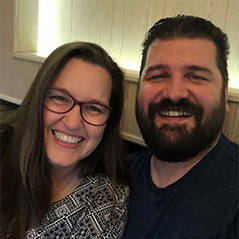 God used something as simple as a radio advertisement to awaken Zoran and Jennifer Naskov to the flight of fatherless children in America.

After becoming licensed therapeutic foster parents in the United States, they welcomed approximately a dozen children into their home between 2009 and 2015. And their lives were never the same. In 2013, the family of four grew by two, when they were blessed to adopt Josif and (later) Malachi out of foster care in North Carolina.

In deciding what direction the family would take next, they began thinking and praying about what God would have them do. Zoran is originally from Macedonia (while it was still a part of Yugoslavia) and they began considering the plight of the orphan in his home country.

So in the Fall of 2014, Jennifer took a "fact-finding mission" to Macedonia, to determine the need and how they could become involved.

There was no question as to the next steps! Less than a year later, the family of 6 (plus a very nervous Australian Cattle dog) boarded a plane and moved across the world to beautiful Macedonia!

After taking a year to settle, get acclimated, and get some language and culture under their belts, the Lighthouse of Hope MK was born.